Energy-Efficient

Foam Coating Services
Residential & Commercial Spray Foam Roofing
Spray foam roofing is gaining popularity among homes and businesses as a way to combat the intense Arizona sun and heat, and it can be a great choice for flat roofs. Our roofing team at Gleason Roofing, LLC, has experience in applying roofing foams, including open-cell and closed-cell products.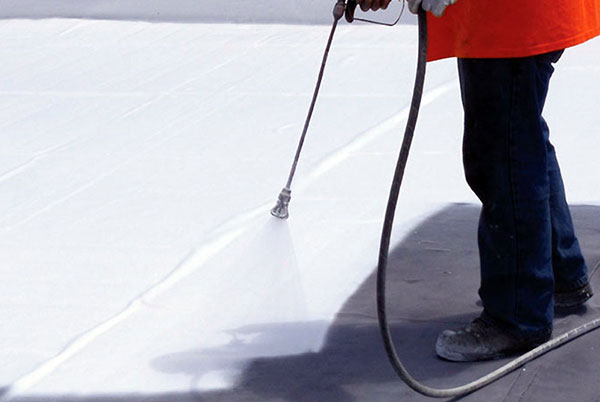 What Are the Benefits of Foam Coating a Roof?
We own the equipment to apply a spray foam roof, which means we do not have to factor in an equipment supplier when scheduling your installation. We fully trust our in-house equipment, because we maintain and care for it ourselves. To learn more about this option for your home or business, contact us and ask to speak with one of our foam coating experts.
A few of the many reasons you might choose spray foam roofing include:
Fast, easy installation.

 

Because of the foam's spray application, it easily conforms to the shape of your roof. Because we own our spraying equipment, we can schedule you without having to work around rental equipment availability.
Energy efficiency.The properties of foam allow your roof to more consistently maintain the temperature inside the building. It reflects the sun's rays and heat successfully.
Waterproofing.

 

Because the foam coats and seals your roof, it eliminates the opportunity for water to get through, which is a distinct difference between foam coating and other roofing materials. 
Minimal maintenance.Unlike a shingle roof, foam is unlikely to have any part break off during high winds or storms. If damage does occur, we simply coat the area with additional foam. 
Request a Free Estimate
Please complete this form to have a member of our team contact you for a free estimate.
Quality Roofing at a Reasonable Price
Led by Brian Gleason and Josh Hardin, Gleason Roofing, LLC, is a proud family-owned roofing company located in Tempe, AZ that offers commercial and residential roofing services, including shingle roofs, tile roofs, flat roofs, roof coating, foam coating, and some General Contracting work. We are fully licensed and insured, and we deliver exceptional workmanship, high-quality materials and outstanding customer service at a fair and honest price. We have We have over 50 years of collective experience providing superior roofing solutions you can trust.  under each of our belts. Our roofing team is fully licensed and insured, and our company has been a member of the Better Business Bureau, with an A+ rating. Our high rating means that we provide exceptional service in all areas of our business, including sales, workmanship, and customer service. Our customers consistently express complete satisfaction with the services we perform.